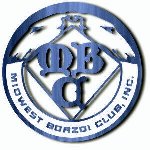 MIDWEST BORZOI CLUB, INC.
GUIDELINES
EVERY MEMBER OF THE MIDWEST BORZOI CLUB WILL CONSIDER THE WELFARE OF THE BREED WHEN ENGAGED IN ACTIVITIES SUCH AS BREEDING, EXHIBITING AND SELLING BORZOI AND WILL REFRAIN FROM ANY ACTIVITY WHICH WOULD NOT BE IN THE BEST INTEREST OF THE BREED AND OF THE CLUB. MEMBERS ARE OBLIGED AT ALL TIMES TO CONDUCT THEMSELVES IN A MANNER DESIGNED TO REFLECT CREDIT ON THEMSELVES, THE BREED, AND THE MIDWEST BORZOI CLUB, INC.
THE FOLLOWING ARE GUIDELINES:
WHEN BREEDING A LITTER OR USING A STUD DOG, THAT MEMBER SHOULD KNOW, ACCEPT AND BREED ONLY TO THE STANDARD OF THE BREED AS SET FORTH BY THE AMERICAN KENNEL CLUB, STRIVING ALWAYS FOR THE BETTERMENT OF THE BREED.
NO DOG SHOWING A SERIOUS DEFECT IN TYPE, STRUCTURE OR TEMPERAMENT SHOULD BE OFFERED AT STUD. LIKEWISE, OWNERS OF STUD DOGS SHOULD NOT ACCEPT FOR BREEDING ANY BITCH SHOWING SUCH DEFECT. IF A DOG OR A BITCH HAS PRODUCED OFFSPRING WITH A SERIOUS INHERITED DEFECT SUCH AS BLINDNESS, DEAFNESS, LAMENESS, OR IMPAIRMENT OF VITAL FUNCTIONS, AND PRODUCES LIKE RESULTS FROM A DIFFERENT MATING PARTNER, THE OWNER SHOULD REFRAIN FROM FURTHER BREEDING OF THIS DOG.
BITCHES SHOULD NOT BE BRED UNTIL THEIR 2ND SEASON OR UNTIL 18 MOS. OF AGE, WHICHEVER OCCURS FIRST. EVEN WHEN FULLY MATURE AND IN THE BEST OF HEALTH, BITCHES SHOULD NOT BE BRED MORE OFTEN THAN APPROXIMATELY ONCE A YEAR. WHEN SERVICING A BITCH, ONLY THE CHOSEN STUD SHOULD BE USED, UNLESS APPROVAL OF THE SUBSTITUTE IS OBTAINED FROM THE OWNER OF THE BITCH. I F ARTIFICIAL BREEDING IS USED, THIS TOO REQUIRES PERMISSION FROM THE OWNER OF THE BITCH PRIOR TO THE BREEDING.
NO MEMBER SHOULD DELIBERATELY BREED MORE PUPPIES THAN HE CAN PROPERLY TAKE CARE OF, NOR SHOULD HE ENGAGE IN THE WHOLESALE DISTRIBUTION OF BORZOI OF ANY AGE TO PET DEALERS, CATALOG HOUSES, OR OTHER COMMERCIAL SOURCES. NOR SHOULD HE KNOWINGLY DEAL WITH ANY PERSON WHO IS BELIEVED TO BE UNETHICAL OR WHO MAY BE PROCURING ANIMALS FOR RESALE OR OTHER PURPOSES. THE PRICE OF PUPPIES, ADULTS, AND STUD SERVICES SHOULD BE BASED ON INDIVIDUAL QUALITY. ALL PUPPIES AND ADULTS SHOULD BE SOLD IN A CLEAN AND HEALTHY CONDITION AND SHOULD BE OLD ENOUGH TO MAKE THE NECESSARY ADJUSTMENT SAFELY TO A NEW HOME. INSTRUCTION AND INFORMATION FOR PROPER CARE OF THE DOG, INCLUDING PAST MEDICAL RECORDS AND FUTURE MEDICAL CARE, SHOULD BE GIVEN TO THE BUYER. A PUPPY OR ADULT SHOWING A SERIOUS DEVIATION FROM THE STANDARD, RENDERING IT UNSUITABLE FOR BREEDING OR EXHIBITING, SHOULD BE HUMANELY DESTROYED OR SOLD WITHOUT PAPERS UNTIL BEING SPAYED/NEUTERED, AND THIS SHOULD BE CLEARLY UNDERSTOOD IN A WRITTEN AGREEMENT. REGISTRATIONS SHOULD NOT BE SOLD OR GIVEN INDEPENDENTLY, IE. A DIFFERENT PRICE WITH OR WITHOUT PAPERS. THE AMERICAN KENNEL CLUB BLUE SLIPS ON DECEASED AND NON-BREEDABLE ANIMALS MUST BE RETURNED TO THE AKC IN ACCORDANCE TO THEIR RULES. ALL PUPS ELIGIBLE FOR REGISTRATION SHOULD BE REGISTERED, AND THE BUYER SHOULD BE PROVIDED WITH THE VALID PAPERS AND AN ACCURATE PEDIGREE OF NOT LESS THAN 3 GENERATIONS.
NO MEMBER SHOULD ENGAGE IN FALSE OR MISLEADING ADVERTISING OR OTHER MISREPRESENTATION OF HIS BORZOI, NOR SHALL HE MALIGN HIS COMPETITORS BY MAKING FALSE OR MISLEADING STATEMENTS REGARDING COMPETITOR'S BORZOI BREEDING PRACTICES, OR PERSON. NO MEMBER SHOULD USE THE NAME OF THE MIDWEST BORZOI CLUB, INC. EXCEPT FOR OFFICIAL CLUB BUSINESS. HOWEVER, A MEMBER MAY NOTE IN HIS ADVERTISEMENTS THAT HE IS A MEMBER OF THE MIDWEST BORZOI CLUB, INC. EXPRESSION OF PERSONAL OPINIONS USING THE NAME OF THE CLUB IS FORBIDDEN. NO ADVERTISEMENT IN THE CLUB'S PUBLICATION WILL BE ACCEPTED UNLESS THE ADVERTISER SIGNIFIES HIS ACCEPTANCE OF THESE GUIDELINES. NON-MEMBERS ADVERTISING STOCK AND SERVICES WILL BE CONSIDERED NO EXCEPTION. COMMERCIAL ENTERPRISES WILL BE CONSIDERED AND EVALUATED INDIVIDUALLY AND SEPARATELY ON THEIR OWN MERIT.
IT IS FELT THAT MISCONDUCT CHARGES SHOULD BE FILED IN ACCORDANCE WITH THE CONSTITUTION OF THIS CLUB AND SHOULD BE SEPARATE FROM THESE GUIDELINES. IF MEMBER FEELS THAT ANOTHER MEMBER IS NOT ACTING IN THE BEST INTERESTS OF THE BORZOI BREED, THE WORD "MISCONDUCT" IS BROAD ENOUGH TO COVER SPORTSMANSHIP, AS WELL AS MANY OTHER THINGS THAT MAY COME UP.
HOME This site was last updated 06/28/10 © 2007 Midwest Borzoi Club. All Rights Reserved.